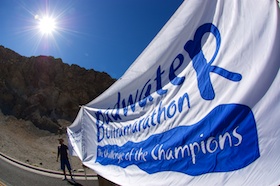 Dec 22, 2013
"fortitudinem in patientia" (strength through endurance)
And now, the politics of feet and running with them!
Anyone remotely interested in Foot Fitness has got to be impressed with the "ultimate" Ultramarathon in the world–the Badwater 135 in Death Valley, CA. I have been one of the official racecourse photographers for the Badwater and Furnace Creek 508 Ultracycling Race the last few years. These photo assigments for Badwater and the Furnace Creek 508  are some of the best times of my life. I am very disturbed to learn that the Death Valley National Park service has cancelled ALL running and cycling events in 2014 for running and bicycling. As cited by Race Director Chris Kostman of AdventureCORPS:
"AdventureCORPS and Chris Kostman have hosted 89 events since 1990 under DVNP special event permits without ever being refused a permit by DVNP, the Department of Transportation, or Inyo County. There have been no deaths, no car crashes, no citations issued, and only a few evacuations by ambulance after literally millions of miles covered on foot or by bike by event participants."
I have been attending athletic events for decades. I cannot think of any one person that would go above or beyond what Chris Kostman does with AdventureCORPS to run and administer a professional, SAFE, and amazing endurance event! Having been on the race staff for years, it is a monumental task that everyone takes very seriously no matter what their staff support role.
Beyond an incredible safety record for ALL events in Death Valley and beyond, AdventureCORPS brings an incredible amount of money into the race areas for local businesses. Hotels are booked out, vendors stock up and sell out important supplies, many racers and crews spend extra time before and after the event increasing economic value even more. Many families like my own return to Death Valley throughout the year on their own due to the direct influence of AdventureCORPS events.
The most important issue? We are losing something beyond racing and trophies–we are losing part of the ultraendurance soul of America. Badwater and other AdventureCORPS events serve a noble purpose as they inspire the human race to go beyond adversity and difficulty to achieve. We all walk away from Badwater better people with more respect for the planet.
The Badwater Ultramarathon is good for humanity, good for America, and GREAT for the local economies involved. We do not want our fitness freedoms taken away by a sweeping government bureaucracy. 89 events since 1990 without a serious mishap in very challenging circumstances. Why? Because Chris Kostman, AdventureCORPS staff, racers, and crew members know how to compete, behave, and respect their surroundings.
With everything bad going on in America, Badwater is great and uplifting–and should remain. We change the world for the better through endurance. LET US RUN!!!
For more facts and official response, please see the Badwater Ultramarathon Statement on NPS Issue.